Fair Sun Farm
CERTIFIED ORGANIC – REGENERATIVE – DIVERSIFIED
We grow organic veggies for families and chefs in our Ottawa area community

By growing nutritious chemical-free food we feel empowered to hope for a more positive future in our little corner of the world.
Marnie Chown & Patrick van der Burg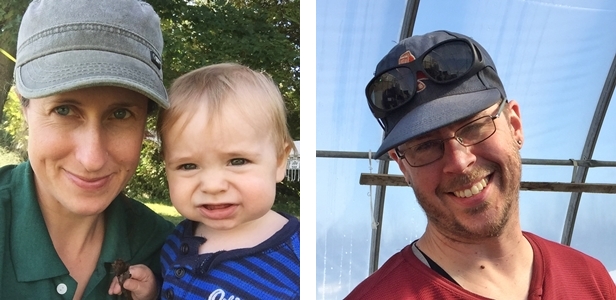 We have adventured, learned and laboured together for many years, and we have been able to explore Canada from coast to coast while doing so!
Pat

 

is a wonderful partner and father while also being a passionate lover of plants, trees and all things green! He contributes much love, sweat, hard labour and brute strength to the farm while also being the brains behind the operations. He takes the lead when it comes to garden building and maintenance, transplanting, weeding and harvesting during the growing season. His main goal is to grow as many top quality veggies as possible and share them with our community. It would be hard to find a more driven and determined person!
Marnie

 

is a dedicated organizer, partner, mother, veggie harvester and sales manager on the farm. She takes the lead when it comes to communications, sales, deliveries and farm building projects. It's not uncommon to find her at the helm of a power tool one minute and a keyboard the next. She sees the best in people and continually strives to deepen the connection between the farm and community.